July 4-8, 2018
The Enchanted Ridge Dance Retreat takes place each summer in the mountains of northern California. Founded in 1998 by Jessica Adams, the Retreat brings dancers and nature together.
Participants take an extraordinary five-day journey as they relax into nature, strengthen their modern dance technique, experience somatic arts (Pilates, Yoga, Pranayama breathing, Yamuna® Body Rolling), and delve deeply into their own choreographic process.
After a day of dancing, choose to get a massage, sooth your muscles in the wood-burning sauna, swim in the refreshing pond, or simply enjoy the glow of the bonfire. Delicious, organic dinners are provided and allow time to socialize, relax and foster a deeper sense of community.
Contact Jessica if you would like a brochure mailed to you.
A typical day at the Enchanted Ridge Dance Retreat:
Yamuna Body Rolling®:Using small balls to roll out tight muscles, you will create circulation and improve range of motion. You'll feel lighter, in better alignment and ready to dance
Dance: We teach modern dance with a strong emphasis on full-bodied movement, musicality and rhythm. Each class is accompanied with live music and focuses on body alignment, qualities of energy and the joy of dancing.
Yoga: This Hatha-based asana class supports the dancing body. You will learn to deepen your awareness of breathing, alignment and connection to body, mind and spirit.
Pilates: This class will emphasize proper form, alignment and injury prevention. We'll focus on strengthening the body's core and maintaining optimal muscular balance throughout the body. Using neutral spine placement throughout all exercises, you will develop core abdominal and back strength, improve the use of breath, increase spinal flexibility, build upper body strength and reduce the body's stress.
Choreography: Designed for dancers of all levels, this class uses choreographic tools to support the creative process. We will explore the elements of nature as a means for inspiration and creativity. By the end of the weekend you will have the opportunity to perform your site-specific dance on the land.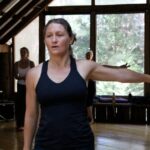 "This program is very special, and I am not sure I would want to change anything. The best art is found when hearts are open, and you both gave so much of your heart and soul that I believe it inspired others to give in to dance."

"All in all, it was such an enchanting experience. Powerful, expansive, liberating, supportive and exquisitely beautiful."

"A wonderful and fabulous experience. The passion and love that you both bring to your teaching is truly a gift."

"Dance classes were phenomenal…love the entire essence of the place and the experience you have created. Words fail on describing that."